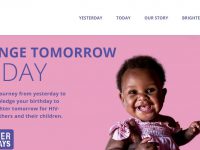 Semantica Digital launched the Mothers 2 Mothers (m2m) microsite on 4 October to celebrate their 15th Anniversary.
m2m is a charity that helps to prevent the spread of HIV from mothers to their children. The aim is to have others use their birthday as a way to donate. Similar to charity water where instead of getting gifts for your birthday you ask friends and family to donate to m2m for your birthday.
Why we use Microsites?
"Microsites are one page websites, generally used to achieve a particular goal. In this case the goal is to get donations. Microsites are also an easy way to tell a story from start to finish, using only one page without having to navigate onto multiple pages," says Semantica Digital Designer Ethan Ellis.
To create this Microsite we setup a WordPress Multisite, and developed a custom WordPress theme according the the client's specifications. Mashable.com describes a WordPress Multisite as a special "mode" built into WordPress, which allows you to create a network of multiple websites, all running on a single installation of WordPress.
According to the Pingdom test, this site boasts a performance grade of 95, a load time of 7 seconds and is faster than 22% of sites tested.
Do you need a Microsite for your business? Don't be shy – give us a call – 021 555 1050.