Allow me to indulge in a bit of name-dropping – Rand Fishkin…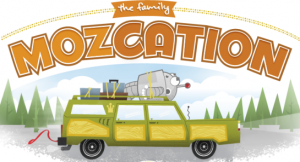 Those Mozzers sure know how to entertain – it would seem no expense was spared at Cape Town's very own Mozcation Meet-up recently held at Ratanga Junction. The team from SEOmoz played the perfect host, as guests were treated to welcoming drinks, canapés and a load of awesome SEOmoz freebies – but the best was still to come.
After rubbing shoulders with SEOmoz CEO Rand Fishkin, we were all herded into the venue's seminar hall to receive the wonderful news that SEO is not in fact dead – Semantica always knew that of course. But when you hear it said by Rand Fishkin, who's really the Mark Shuttleworth of SEO, and considering he's got the low-down on what's happening over in the US, then it's sure to be great tidings for us here at the tip of Africa.
And the White Hatters proclaimed…'let there be education!'
After the introductions were made, they got right down to the nitty-gritty of the current state of SEO in South Africa. A panel from our local champions, the White Hatters (an organisation dedicated to inspire the growth, education and promotion of SEO in Africa) started off with a discussion about where SEO is at the moment and where it is going. They all agreed that:
SEO needs bigger understanding amongst company's CEO's and directors
Unethical strategies are damaging the market
SA must stop following SEO trends and start creating our own
There is a need for more formal SEO education in SA
Rafiq Phillips, one of the experts form White Hatters, made some valuable remarks about how we must start to approach SEO if we want to see this industry not only expand, but do wonders for businesses and make their web-traffic skyrocket. Some of his most applauded comments were:
'Generate good content and people will link to you.

and

'Who says what where will influence your SEO.'
The fact that social and content are getting ever more vital in online marketing were emphasised and especially the core reality that it all links back to SEO if you want to see results that will make your eyes pop and your business thrive.
The discussion was followed very appropriately with a presentation about blogging and content strategy, entertainingly presented by Erica McGillivray from SEOmoz.
We all got a sneak peek at a new analytics tool developed by SEOmoz, and soon to be available – but it's still a bit of a hush-hush situation.
And then there was…the nudge.
When Rand Fishkin took to the stage, he grabbed our attention and never was there a dull or uninformative moment. He's topic 'The Nudge is Mightier Than the Sword' was both entertaining and enlightening. It concerned behavioural psychologies and how the slightest changes in the way we present our content or marketing messages can 'nudge' people into the right direction – meaning the direction you want them to go. He also enthused about the truth behind the 'familiarity breeds trust' concept and how it relates to search and social.
You can click through the slide show that accompanied his speech below:
[slideshare id=15880599&doc=randfishkinnewmediaexpo01-2013v8-2-flatversionforslideshare-130106211004-phpapp02]
We had to go home eventually…
It was a very successful evening in all and I believe everyone had a great time with the Mozzers. We certainly got some valuable insights into how we must go about to nudge South Africa into the right direction when it comes to harnessing the incredible power that is SEO.