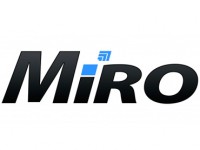 MiRO's new site
Semantica Digital is proud to announce the launch of MiRO's new site.
Customers will now be able to place order requests directly on site, allowing easier access to MiRO's amazing range of products. MiRO site administrators will be able to blog about new products and to promote training events, as well as handle enquiries in a more structured format. An intermediary Mailer service will keep their help desk system spam free.
Thanks to hard work and dedication, the site is looking better than ever!
About MiRO
Found in 2001, MiRO has rapidly become one of South Africa's leading distributors of Wireless, Networking, VoIP and IP Video products. The company has earned a reputation for offering effective and reliable solutions specific to clients' requirements.
MiRO is a trusted supplier to the expanding IP convergence industries. They take care to only offer the top brands and products, and pride themselves on their strong after-sales service and technical support. MiRO is a member of the Wireless Access Providers Association (WAPA), a non-profit organisation geared towards issues of self-regulation and compliance. The company is actively involved in the legalisation and self-regulation of the industry, ensuring a steady supply of legal products.
MiRO also provides vendor-approved training, focusing on areas such as Wireless technologies, MikroTik training and Voice over IP (VoIP).
MiRO's vision and values
MiRO aims to be an inspirational figure in the industry. The company strives to offer strong technical support and exceptional customer service. All personnel are trained and up to date with all the latest products technology has to offer.
Despite their commitment to cutting-edge computer equipment distribution, MiRO is focused on people. Their main concern is proving effective solutions, and providing top notch customer service.
Be sure to check out MiRO's business and fabulous new site today!
Sources
Case Study
Custom API WordPress Project : MiRO distribution