How to protect yourself from Internet fraud
The real hustle
South Africans are no strangers to crime ─ some might even try to put a light-hearted spin on it and say we're all experts. But in all seriousness, no one wants to be the victim of crime and as a country with a ridiculously high crime rate, we're all quite aware of protecting ourselves and our property from criminals. But crime wears many different faces and with regards to Internet fraud, people are not well enough informed about how and where it happens and how to avoid falling prey to crimes such as online scams and SIM-card swap fraud.
This is a hot topic following the recent global ATM heist in which an international criminal organization stole $45 million by hacking into a database of prepaid debit cards and then depleting cash machines on a global scale.
In South Africa the rate of SIM-card swap fraud have also been on the increase, with a reported 1 000 incidents occurring in 2012, according to the South African Risk Information Centre.
Semantica's Chief Marketing Officer, Dirk Tolken was recently interviewed on ExpresSo ─ SABC3's new breakfast show and was asked to share some valuable industry insights regarding Internet fraud.
Here we're continuing the focus on Internet security by providing some important need-to-know tips on how to protect yourself against Internet fraud and how to avoid getting conned in online scams.
Types of Internet fraud
Phishing :

Phishing happens when someone committing fraud pretends, for example, to be from your bank or other legitimate company with the aim of acquiring information such as your
internet banking log-in credentials
your credit card details or
identity number
Many phishing scams arrive in the form of emails that ask you to give out your personal information via a hyperlink that sends you to a fake internet banking website. It could even ask you to install specific software supposedly as protection. Sometimes phishing fraudsters send an SMS or make contact telephonically and pretend to work at the institution's call centre.
How to avoid phishing scams :

You should never access Internet banking or other secure websites through a link ─ type the address into the browser address bar.
When you log-in to your bank, make sure you check that the URL has a secure network sign at the front.
Important notice: A bank will never contact you and request you to supply your PIN, password or the reference number sent to you via SMS. Should you receive a call or an e-mail requesting any such information, do not provide it and call your bank straightaway.
SIM-card swap fraud :

Mobile network operators do SIM swaps to issue new SIM cards to customers who have lost their cell phones by sending the same number to the new phone. SIM-card swap fraud works as a result of the swindler receiving a client's banking account information following the client's response to another scam – such as a Phishing e-mail.
The swindler uses the information to do a SIM swap, whereby possession of the client's cell phone number is transferred to the fraudster, enabling him to intercept bank notifications, make transactions and change the limits on withdrawals. The real client's SIM card is cancelled in the process, which prevents him from making or receiving calls and SMS messages.
Prevent it from happening to you!
Being aware of your cell phone's status is a good way of keeping yourself from being conned. If it seems that you are not receiving any calls or sms notifications at the usual rate, contact your service provider to make sure everything is in order.
Investigate any loss of signal on your cell phone.
Check your bank statements and online banking transaction history on a regular basis to make sure no unauthorized activity is taking place.
If it does happens to you :

If you suspect that your SIM card has been fraudulently swapped, you should immediately:
Contact your bank's Internet banking Help Desk instructing them to suspend access to your account at once so as to prevent anyone from making transactions.
Contact your service provider for help.
Spoofing :

This is yet another scam that is closely related to phishing. It involves the swindler creating a fake website that simulates the legitimate website of another company ─ even the addresses and URL 's are very similar. Customers are tricked into making transactions on the fake website. The way it happens is that people receive a fake address from an email and then they click on the link leading to the site.
Never answer to offers that seem ridiculously rewarding.
Don't fall for job offers requiring little or no work and pays loads of money ─ that goes for pyramid schemes as well.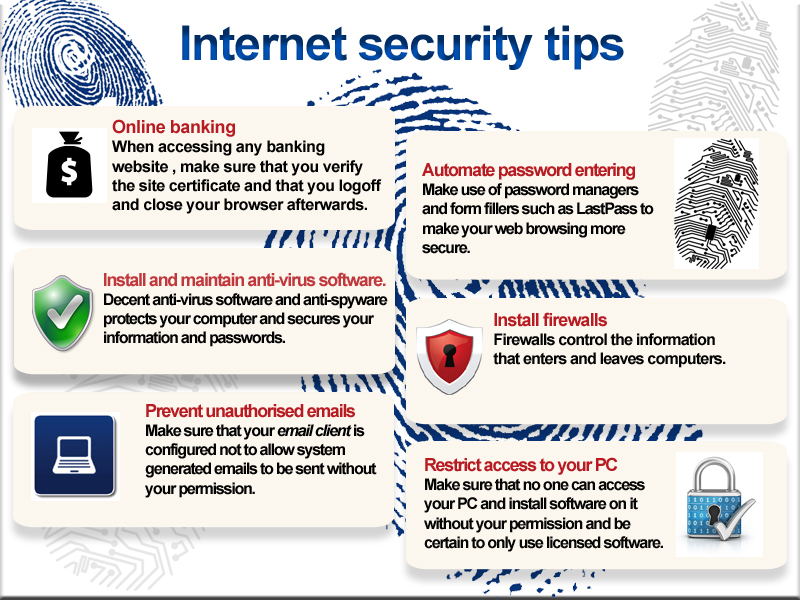 Have you ever encountered or been the victim of any of these or any other form of Internet fraud?
Let us know in the comments below.