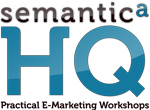 We have put a lot of hard work in over the past few months to bring our clients the most efficient service possible. We believe that we have reached a level where we are happy with our systems and can now present additional exciting ventures to existing and prospective clients.
We proudly present SemanticaHQ
We are offering monthly workshops for beginners and advanced attendees, on various topics that are relevant to your business or personal websites. Our advanced workshops will mostly focus around online marketing and web development, as these are our core specialities. For beginners, we're looking to have some fun and make it easy to understand, but still provide practical advice to get you started.
Our next workshops are:
Are you part of a corporate or larger SME? We offer group discounts for delegates too. Just email us on training@semantica.co.za for more information, or fill out a request on one of the pages above with your details.
We do of course provide many clients with customised consulting, based upon our experience in the field, so if you think you have a need for a more customised consultation, feel free to fill out a quote request.
Factoid: Why SemanticaHQ? Well, we offer these workshops at Semantica "Headquarters" of course 🙂