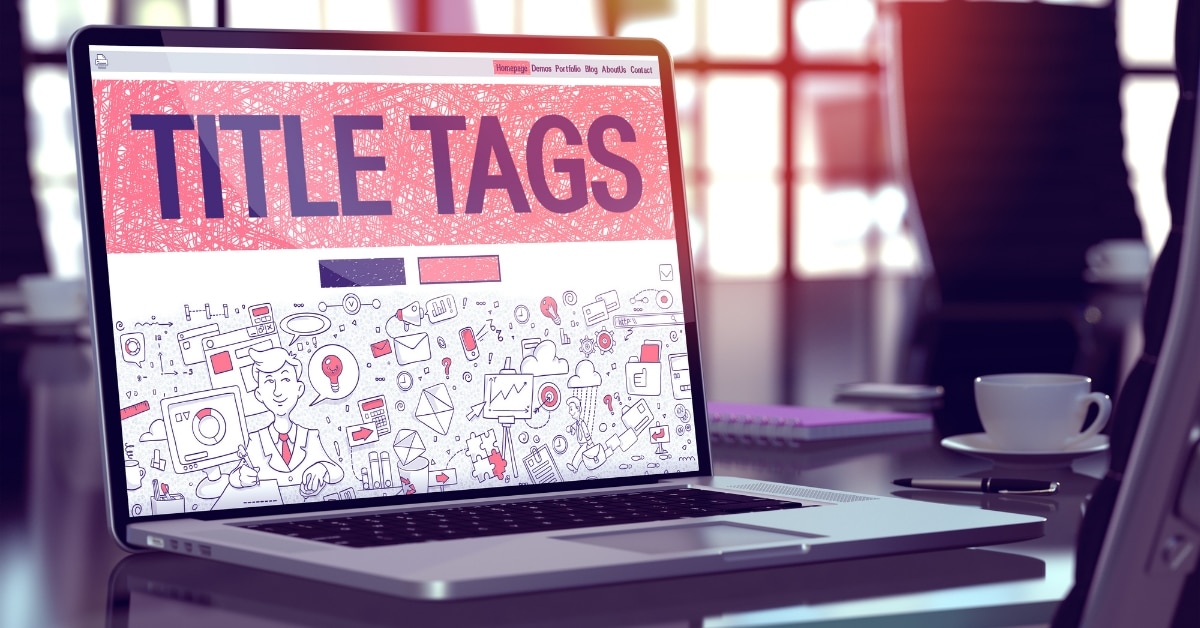 Latest in SEO News: Google is Rewriting Title Tags in Search Engine Results Pages
One of the most important factors in Google's search results is the title tag. It's the first thing people see when they view their search results. Now, Google is rewriting title tags themselves and seemingly replacing them with H1 and H2 tags. Is this true, and how will this affect search results and SEO?
As we all know, Google is the world's most dominant search engine. Because of this, Google has successfully built a product that millions of people use every day for different tasks and activities including shopping online. Google's power lies in its ability to satisfy searchers, which often results in clicks on certain paid ads after first appearing organically. It has been observed that Google sometimes can change titles to fit with a user's intent, but now it appears they are flipping titles upside down through re-writing them entirely. Similar cases have been noted with meta descriptions. While they aren't a ranking factor, this can negatively affect your CTR rate and can be frustrating, especially if you've spent months crafting the perfect descriptions.
How did the Google title tag story unravel?
On August 16th, SEO specialists started to notice the title changes as many were tweeting about a "massive" title rewrite on Google. It was too early to tell the extent of the presumed rewrites, however, it occurred in more than enough instances for many people to notice.
Then, on 17th August, Barry Schwartz reported that Google was presenting header tags instead of titles in the search engine results pages, wondering whether it was a test or a bug on Google. He then shared a Tweet relating to this.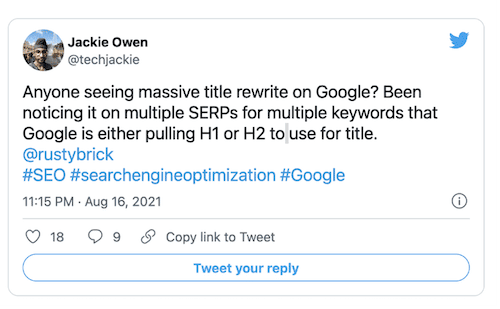 Another interesting observation tweeted by Lily Ray followed about Google replacing page titles not only with H1 or H2 titles but with anchor text from internal links as well.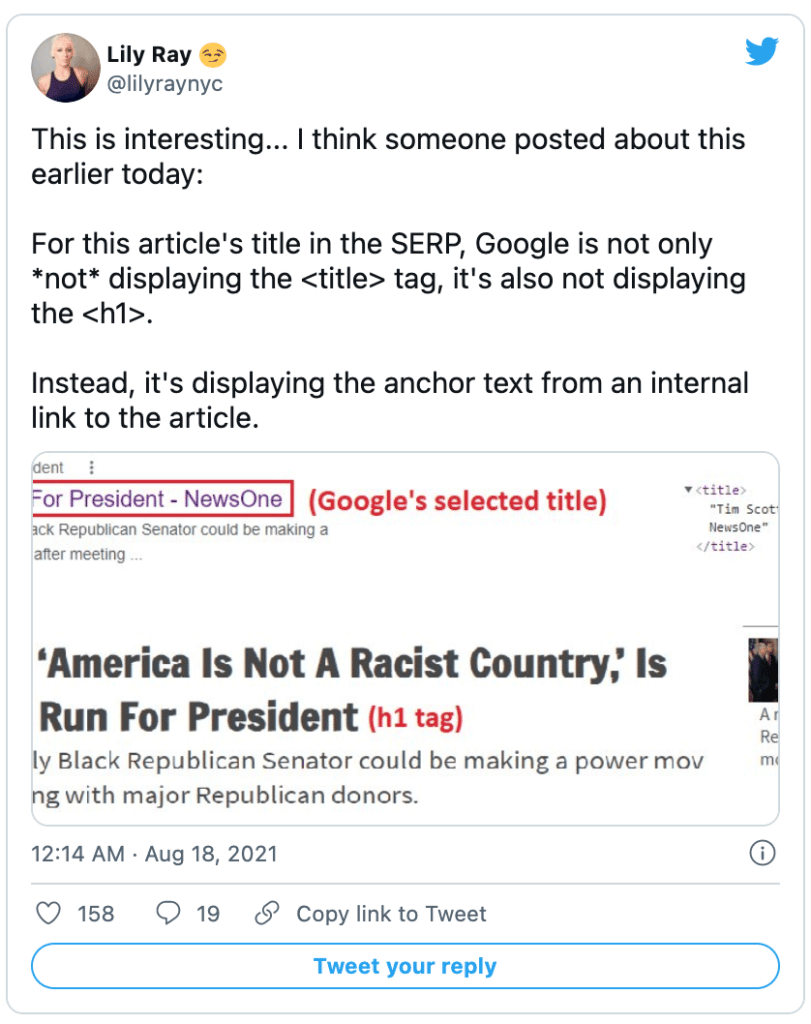 It was also found that the optimized titles tended to be more specific and much shorter, perhaps to add brand names at the end of the title snippets.
Google's Danny Sullivan Responds to Feedback on Twitter
On 19th August, Danny Sullivan confirmed that Google had heard the feedback and that the change isn't new. He tweeted, "Suffice to say, we've heard the feedback & looking into all this. That said, it was never the case that writing the 'perfect title' guaranteed that title would be used. We have long used more than title tags for creating page titles. That's not some new change…"
He noted that this isn't necessarily a bad thing, and pointed out that there have been many cases where "this long-standing system" of generating titles has also helped pages with really bad title tags. 
Google finally confirms the update
On Tuesday, August 24, Google finally came forward about the web page title update, explaining the following:
It will no longer generate titles based queries


Instead, their new system is generating titles that will work better for documents overall, to describe what they are about regardless of the query. It mentioned placing particular value on what a user sees on the search page.

Reminded us that this is not entirely new


Google has been using more than just the

HTML title tag

to produce titles as far back as 2012, as some pages have tags that are too long, keyword-stuffed or they have no tags at all.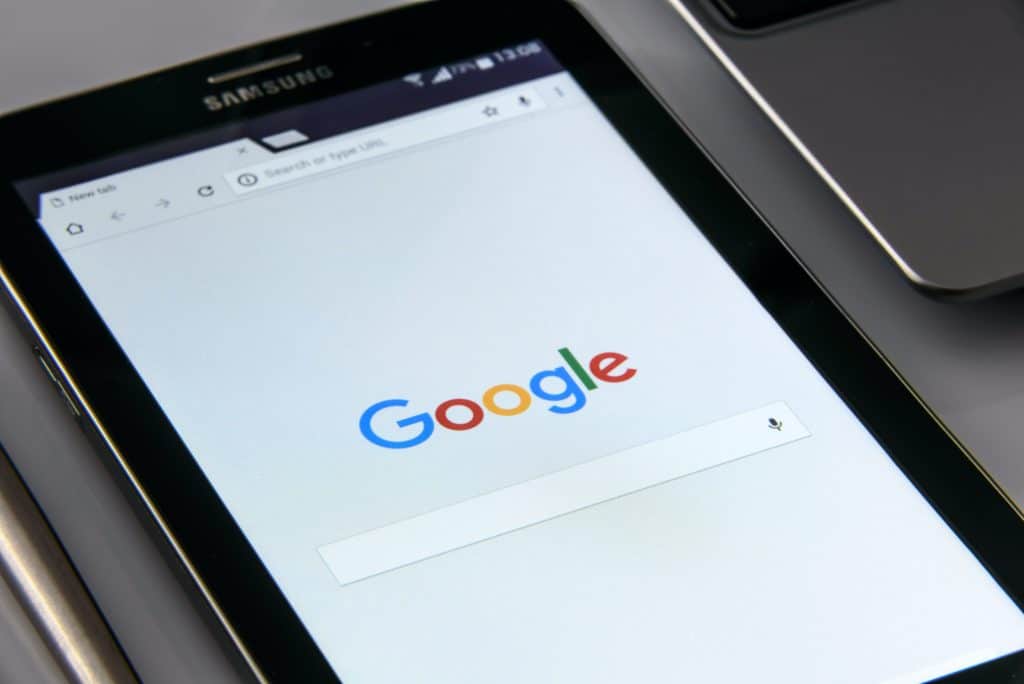 A Solution for Problematic Titles
Danny Sullivan says he'd prefer Google to offer a selective and limited fix for problematic titles. He has proposed there be an update to Google Search Console that would let users specify when they want to keep a certain page's HTML title in the search engine results page.
In the thread on Twitter he comments, "I'd love to see us find a mechanism for site owners to very selectively indicate if there are problematic titles. Like perhaps in Search Console, you could say that you really wanted an HTML title tag used rather than our automatic choice…"
Moreover, there would be an expiration date in case users make mistakes: "My thought is that we could perhaps allow a set number per site, maybe 5-10, and also with an expiration period. That way people wouldn't make wholescale long-term mistakes accidentally, but we have some balance for when our automatic title selection might not be preferred."
Of course, more critique followed by Twitter users, specifically pointing out that this is not an ideal solution for sites with a multitude of pages. Sullivan then explained that the feature he proposed wouldn't be created for managing many pages. It would be designed for limited use when you totally contradict the page title Google displays.
"The idea isn't that you should manage millions of URLs. Our systems are already going to select titles. That is the scale. It's an idea so that if there's a particular few titles you really really really don't like, you could deal with those."
It doesn't sound like Google will allow you to opt-out of page title rewriting across a large website any time soon.
How will Title Tag rewrites affect SEO?
For any concerns SEO specialists may have about this update, Google's John Mueller says that titles are important but isn't worth really stressing about: "Titles are important! They are important for SEO. They are used as a ranking factor, but it is not something where I'd say the time you spend on tweaking the title is really the best use of your time."
No drop in rankings have been seen with rewritten titles, which is a good indicator that the change won't impact SEO negatively. However, it will still be important to monitor this closely moving forward.
So, what now?
As with any algorithm update, it's generally not a good idea to go into your pages and optimize for that specific update; rather, you should focus on improving the overall quality of your site for optimal user experience.
If Sullivan's proposal is that of the future for Google, there may be a way to override rewrites through a limited-use feature in Google Search Console, however, his tweets are not in any way a confirmation that any action is being taken in this regard.
Pay attention to the traffic and click-through-rate (CTR) on your site, because as we've seen, Google sometimes doesn't get it right.
Ensure your titles are optimized for SEO. Get in touch with an SEO specialist at Semantica Digital today!